Showtime is the highlight of the SLAD dance year. After an incredible year of classes and dance instruction we get to showcase the incredible talent of our dancers at our Showtime dance recital event held at the Edison Theatre on the Washington University campus.


Showtime 2020
Sunday, June 7, 2020
Edison Theatre, Washington University
6465 Forsyth Blvd. St. Louis, MO 63105
VIEW MAP


Rehearsals - JUNE 5 & 6
- Show RED - 8:00a-10:45a ( SAT, JUNE 6 )
- Show ORANGE - 10:00a-12:45p ( SAT, JUNE 6 )
- Show GREEN - 12:45p-7:45p ( SAT, JUNE 6 )
- Show BLUE - 11:00a-7:00p ( FRI, JUNE 5 )

All dancers must arrive at the Edison Theater in FULL HAIR AND MAKEUP!


Showtimes - JUNE 7
- Show RED - 11:00a
- Show ORANGE - 1:00p
- Show GREEN - 3:00p
- Show BLUE - 6:30p

All visitors to the performances are required to have a ticket.


Show Policies
For the safety and security of our dancers there will be NO PHOGRAPHY, VIDEOGRAPHY or any other types of recording of the Showtime show during the performance. Visitors violating the recording rules may be asked to leave the performance without refund. The Showtime show is being recorded by Mr. Video Productions and DVD's will be for sale prior to the performance. To purchase a DVD of the Showtime performance please visit the Mr. Video website.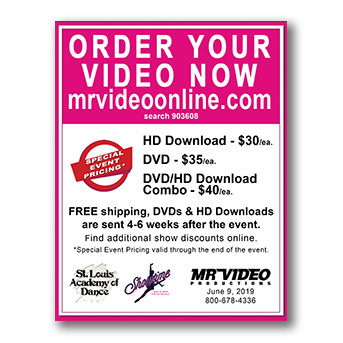 SHOWTIME 2019 VIDEO INFORMATION

Mr. Video Productions will once again be back to record Showtime 2020 for us. If you wish to order a copy of any of the 4 shows please visit the Mr. Video Website as no orders will be taken at the SLAD front desk. REMINDER: No personal recordings will be allowed during the show ( no use of any recording devices are permitted ).

https://mrvideoonline.com/903608